A piece I wrote for The Huffington Post:
It is, incredibly, exactly 10 years since the word 'truthiness' first appeared, courtesy of Stephen Colbert. I know this because I didn't just feel it to be true – I looked it up.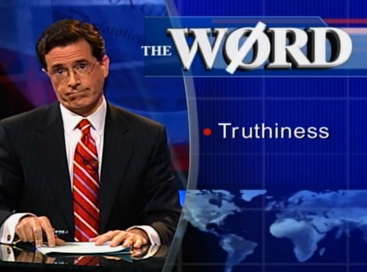 Yes, in October 2005, in the very first 'The Word' segment during the very first episode of
The Colbert Report
, America's greatest fake right-wing host came up with America's greatest fake word: 'truthiness'. It was a word that hit the nail so perfectly on the head – a word so, yes,
truthful
– that it was named Word Of The Year by both the American Dialect Society and Merriam-Webster dictionary (the US equivalent of our Oxford English Dictionary, but with fewer 'u's).